Focus on the Important Things
Remember that episode of A Different World when Whitley Gilbert (played by Jasmine Guy), couldn't get over the fact that her rich, ex-boyfriend Julian had moved on? In this scene (which you can see in the clip below) Whitley (who always had a capacity for les dramatics) tries to get over him and sees a shrink who whips her into shape with a dose of truth serum.  Part of Whitley's "cure" is to get closure with her past so she can move on to a life with Dwayne (who loves her dearly – but who was a poor as a church mouse) and find happiness in the things that really matter. Like honesty, true love and purpose.
Part of Whitley's healing comes from repeating the phrase "relax, relate, release."
That episode  was always one of my favorites and the phrase "relax, relate, release" became  a mantra that got stuck in my head. When I get overwhelmed, stressed out, and/or otherwise frustrated with what is happening in my life, this phrase, along with many other mantras, is one that definitely comes to mind.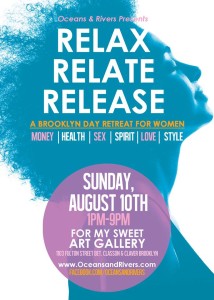 Brooklyn Day Retreat for Women
But, next month the words "
Relax, Relate, Release
" are going to take on even more wonderful meaning. At least it will for those of us lucky enough to be a plane, train, bus or car ride away from The Afro Capital of the World (also known as Brooklyn, New York).
Why? Because
Lindsay Fauntleroy
, the Dynamic Diva behind the company called
Oceans and Rivers
is blessing us with another
Brooklyn Day Retreat for Women
at the fourth annual
Relax Relate Release Woman's Conference
. (Full disclosure: I love Lindsay like I love bread. Which is to say… a lot!)
Last year at this time I was as pregnant as one can be without actually giving birth, so I didn't get to you prepare you properly for the 2013 version of RRR awesomeness. I will not make that mistake again. Because if you missed last year's event then you reaaaaaally missed out big time.
According to Ms. Fauntleroy, the goal of RRR is to:
"Empower women in an fun, relaxing atmosphere and connect them to resources that will better their physical, emotional and spiritual health. It's rare for women to have opportunities like this to come together to talk, learn and share about the things that are most important to our success."
As you can see from
last year's pictures here
,
we had a blast
. And if you check out the pictures from
earlier years
you will also see that when it comes to providing women with a dynamic day long escape, Lindsey and the Ocean and Rivers crew know
exactly
what they're doing.
Last year, I had the distinct pleasure of presenting my workshop called "Beauty Marks" which explores female identity and self-esteem (for women and girls) with a focus on how the beauty of women of color has been contextualized through the years.
This year not only will I be participating on the panel discussion but I'm also hosting a workshop called
Pretty Shouldn't Hurt
(thank you Ms. Yonce). Because lets face it: w
e've all had those moments when we've felt radiantly gorgeous, and other moments when… not so much.  Pretty Shouldn't Hurt will use media and popular culture to explore some of our deepest held beliefs about beauty, and how those beliefs affect our self-esteem on a daily basis.  You'll learn concrete action steps to transform your "unpretty" moments, and how to radiate the beauty that you are with grace and confidence.
1. Wise Awake: Intro to Insight Meditation
presented by Sebene Selassie,
Executive Director of New York Insight
Meditation Center & founder of Wise Awake, Inc.
2. Money Makeover: The Sexy Money Way to Passive Income
presented by Denise Cooper,
CEO of Sexy Money
3. Burlesque your Chakras: Cultivating Creative Power
presented by Chicava HoneyChild
Burlesque Dancer Extraordinaire
4. Sensual Wellness through Bellydance
presented by Oshun, Bellydancer and founder of Joyful Dance
5. Goddess Sense: Flower Essences for Mind, Body & Spirit
presented by Oceans & Rivers Founder Lindsay Fauntleroy
6. Lift Your Voice: Expression & Creativity through the Sacred Cypher
presented by hip hop phenomenon Toni Blackman
7. Dress to Impress: Making Your Personal Style Statement
presented by Lauren Simmons
And more. Much, much more.
Like awesome vendors with some of the best bags, clothes, jewelry, hair & body products Brooklyn has to offer. Oceans & Rivers has put together a certifiable Dream Team and you can check out some of the other folks who will be there. So yes. As you can see we are going to have a blast this year. All you have to do now is buy your ticket. There may be a small amount of tickets at the door – no guarantees though. Per the RRR Facebook page, most tickets have already been sold. WooHoo!
Unlike many conferences, your ticket allows you access to ALL of the workshops and ALL of the vendors. No picking and choosing what you can or can't attend. That's the point of a Day Retreat for Women: creating a space where Sistas can come together to build with each other in love, peace and relaxation. It's a day, one out of 365, that we can leave our stress, worries and concerns at the door. It's a time when women like me can enjoy the sista-hood that is so vital to our health, our spirits and our well being. It's a time when we, just like Whitley, are reminded of and empowered to take some time to Relax, Relate, Release.
Oh, wait.  You have kids and don't have a place to take them for the day?
Well the Oceans and Rivers crew already have arranged for child care to be provided by
Little Sun People Daycare
for an additional small fee. Now some of you may have heard me mention LSP as one of God's gifts to Black parents and children. I have also said that this preschool happens to be one of Black Brooklyn's best-kept secrets. Why? Well when you get a chance
check out my interview with Fela Barcliff
, the dynamic woman who is the brains behind the school. You will see why first hand. This school's commitment (more than 30 years strong!) to raising Black children in an African centered space that keeps their educational curriculum and cultural needs in mind is unmatched.
Anyhow the point being, if you're worried about child care, don't. Buy a ticket, register them for child care and save your sanity. For one day anyway.
Here it is one more time:
Relax, Relate, Release Women's Day Conference
Where: 1103 Fulton St. Brooklyn, NY (at the For My Sweet Gallery)
Time: 1pm – 9pm
Childcare Available (separate registration)!!
********
Looking for more thoughts from an Afro State of Mind? Check out my book Afro State of Mind: Memories of a Nappy Headed Black Girl now available on Amazon.com in paper back or e-book! And if you want to stay connected follow me on Twitter, "like" Afro State of Mind on Facebook or catch up on my latest youtube videos!