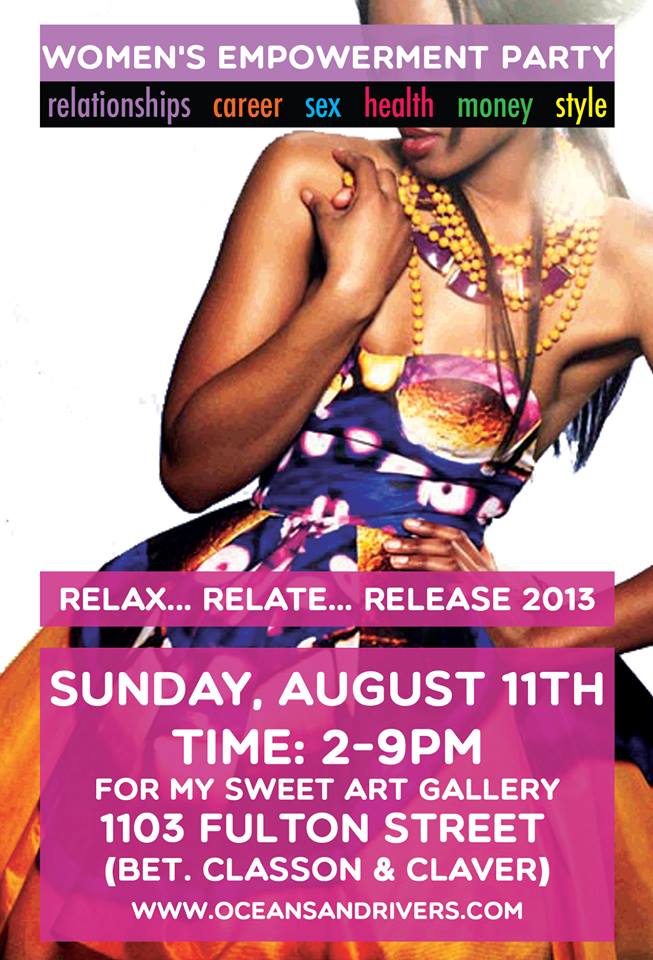 If you attended last year's Relax, Relate, Release Women's Empowerment Conference then you know you are in for a treat.  This annual Brooklyn event is a dynamic gathering of women coming together to learn, support and grow from each other—all while having a blast at the same time.
Event founder Lindsay Fauntleroy, an all around awesome sista with a powerful story (check out her bio here) says Relax, Relate, Release was designed to:
"Empower women in an fun, relaxing atmosphere and connect them to resources that will better their physical, emotional and spiritual health. It's rare for women to have opportunities like this to come together to talk, learn and share about the things that are most important to our success."
And what a power packed day the event is shaping up to be! At the conference you will hear from amazing speakers like:
Karen Tappin, CEO of everyone's favorite natural hair and body care product company, Karen's Body Beautiful. Karen will share her story about growing her homemade, natural products into best-selling beauty line in retail chain markets. Want be a Business Boss? Then you need to be in the front row to learn from someone who has turned the business world on its head!
Hip Hop icon Toni Blackman, the international champion of hip-hop culture, known for the irresistible, contagious energy of her performances and for her alluring female presence. Want to figure out how to say what you mean and mean what you say? Or how to speak up for yourself and create the type of life/career/relationship you desire? Well this workshop will explore common communication errors women make, and provide practical tips for empowered communication in relationships and the workplace.
Browngirls Burlesque co-Founder Chicava Honeychild, who will help attendees tap into their own erotic power, release their inhibitions and learn how to cultivate their own sense of sensuality. Oooh la la!
And many more workshop topics including: career, relationships, health, sex, finances, spirituality and mama-hood.
I was honored to be one of last year's speakers and am really excited to host a workshop this year alongside these dynamic female powerhouses.  My workshop, "Beauty Marks" will explore female identity and self-esteem (for women and girls) with a focus on how the beauty of women of color has been contextualized through the years. You will leave feeling empowered and learn how to develop a greater appreciation of your natural, beautiful self—just as you are.
There will be vendors, delicious food catered by Bunna Café, awesome DJ's, networking opportunities and a power packed day dedicated to learning the secrets of successful womanhood.
Also, if you register online you will be entered to win a VIP Swag Bag valued at $65.
The event takes place Sunday, August 11th from 2pm- 9pm at For My Sweet Art Gallery, 1103 Fulton Street, Brooklyn, NY.
Trust me—you do not want to miss out of what is quickly becoming one of Brooklyn's must see annual events. See you there and remember to Relax, Relate and Release! Check out pictures of last year's event here.
Sunday, August 11th
2pm- 9pm
For My Sweet Art Gallery
1103 Fulton Street, Brooklyn, NY
Register here!