Whenever spring starts turning towards summer you can be sure that it is Afro season. And when you live in the Afro Capital of the World (aka Brooklyn) then you also know that this means Natural Hair Event Season is upon us.
In this part of the world Natural Hair Event Season (NHES) started out on a high note with the Natural Aristocratic Tea sponsored by Sabine's Hallway Natural Hair Salon and Natural Hollywood. As many of you know I was one of three women honored at the tea and it was an amazing event to experience. I have a ton of pictures and will have a full write up for you soon. For now here's just a few to whet your appetite!
The Beauty Boss: 10 Years of Beautiful
Next week, June 21, 2014 the Beauty Boss herself, Karen, CEO of Karen's Body Beautiful will celebrate her 10th Year Anniversary with a dynamic White Party! I'm excited to say that yours truly will be hosting the event and we are going to Cel-Luh-Brate!
Doors open at 5 pm and if you know any thing about #TeamKBB then you know you need to get there on time for the paaahhhtaaaayy! Come ready to shop and be entertained as there will be vendors, a fashion show, workshops and entertainment. Bring your dancing shoes because afterwards the DJ takes the floor (you know how we do) so we can dance the night away with Karen and her team and wish them many more decades of blessings and success. More details to come. For now check the picture below for details.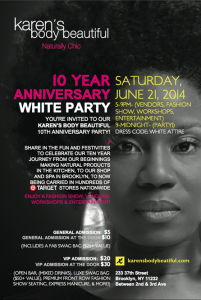 To B Natural
This weekend be sure to check out Toia B's (of LuvToBNatural.com fame), Healthy Hair & Beauty Affair II taking place at the DUMBO Loft at 155 Water Street in Brooklyn on Sunday June 15 from 3–8pm.Toia B. is the voice behind the natural hair & fashion blog luvtobnatural.com and creator of ToBNatural, an online platform focused on helping women realize and embrace their natural beauty by providing helpful tips and resources through social media.
I got a chance to discuss the event with Toia B. and some of our discussion is below.
AfroStateOfMind: What was your motivation for the Healthy Hair & Beauty Affair?
TB: Well, I was motivated by the need for women who are wearing their hair in its natural state to have the encouragement and accurate information needed to stay on that journey no matter what stage of the journey they find themselves. My focus is always on HEALTHY hair. The number one question I get as a natural hair enthusiast is in regard to growth or making hair grow faster. My philosophy is: focus on the health of your hair and the growth will come.
ASOM: What do you want women to get out of the experience?
TB: If women leave this event encouraged and more knowledgeable about how to care for their hair, I'm happy! That is my aim. Some of us may have been wearing our hair in its natural state for some time now but there are more and more women taking the leap every day! There will continue to be someone who needs to know this information or simply to feel that sense of support, giving them the confidence to rock their natural with all the pride in the world!
ASOM: Who are some of the vendors attendees can expect to patronize at the event?
TB: I've selected a wide range of amazing vendors to create an awesome shopping experience for the attendees: CURLS, Li Li's Creations, Akua Stylee (Ankara accessories), Diva'z Den (jewelry), Haus of Swag (trendy clothing), Beautie Brownie, Busy Bachac Bags, Dyva Delights, Handmade Jewelry by Morena, Curl Prep, Keep Yourself Smelling Sweet (K.Y.S.S.), Jirau Travel Cruise Planners and The DynaSmiles (gifts & accessories). A little something for everyone.

ASOM: Who are some of the speakers?
TB: We have celeb stylist Tameeka McNeil-Johnson in the house along with Karen Tappin, creator of Karen's Body Beautiful and Wonder Curl founder, Scarlett Rocourt. Also, super talented spoken word artist Joekenneth Museau will grace the stage. The highlight will be a fashion & hair showcase featuring designs by Sofistafunk The Original Skirt Co designer Arlinda M with makeup by Val Joseph, aka Mrs. Makeup, and hair by Tameeka.
ASOM: What about the Brothas? Can men come to the event too?
TB: Of course! All are welcome. As a matter of fact, I encourage it! With natural hair still being somewhat taboo, I think it would be encouraging for all of the women in attendance to see that there ARE actually men who support us.
ASOM: Where can people buy tickets?
TB: Tickets are available online at www.hhbadumbo.eventbrite.com
ASOM: Your hair look amazing. What is one piece of healthy hair advice you can't live without?
TB: Healthy hair really begins from within. I believe drinking lots of water and maintaining a balanced diet are essential to making sure your hair thrives. A healthy you means a healthy 'do!
ASOM: Thanks so much for speaking with us today. Is there anything else you want to add?
TB: It promises to be a beautiful, sunny day in Brooklyn this Sunday so come on out, mix, mingle, shop and learn! I hope to see you there!
So ladies (and gents!) if you're in Brooklyn this weekend be sure to check out the Healthy Hair & Beauty Affair. And don't forget the Karen's Body Beautiful 10th Anniversary White Party next weekend!
Sound off in the comments. Are there any major natural hair events coming up in your neck of the woods? How are you celebrating "Afro Season"?
*****************
Looking for more thoughts from an Afro State of Mind? Check out my book Afro State of Mind: Memories of a Nappy Headed Black Girl now available on Amazon.com in paper back or e-book! And if you want to stay connected follow me on Twitter, "like" Afro State of Mind on Facebook or catch up on my latest youtube videos!