The Black natural hair community has amassed a level of power that is being used to directly impact current issues in the Black community. We've had a number of victories and I get the feeling that we're only getting started.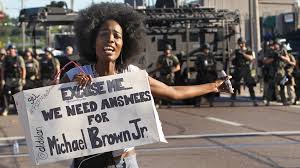 Black naturals (and yes, I say "Black" naturals because those of you who remember Sarah will know that the term "natural" doesn't always mean "Black") have played key roles in everything from: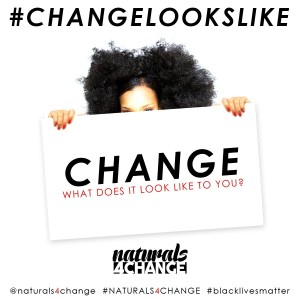 These are just a few of the key and significant ways that Black naturals are using our collective power to shift the conversation on issues that impact the broader Black community.
But where do we go from here?
As Black naturals, we've chosen to embrace how our Black hair & skin look, feel and grow. This is despite the fact that we live in a society where the economic and governing systems are still based on Blackness being the bottom rung of society.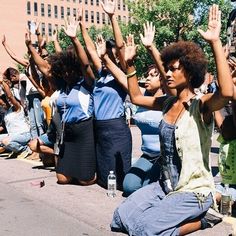 There's a power that comes when oppressed people band together and refuse to believe the lies that support their oppression.
Regardless of why you went natural (could've had a back to Africa moment or just a bad perm…whatevs), it's important to know that going through the process of learning to love Black hair can be a truly liberating and (more importantly) empowering time.
How we use that power is up to us.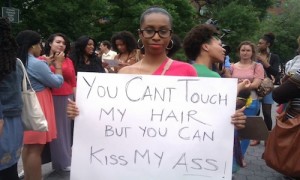 This past week I was honored to participate in a panel discussion called Afros & Activism, moderated by Natasha Gaspard, the gorgeous & brilliant brains behind ManeMovesTv & founder of the Naturals4Change campaign. Naturals4Change is an "organization comprised of members of the Natural Hair Community advocating for social justice issues."
When asked why she started the campaign, Gaspard stated:
After feeling the disappointment of the decision to not indict Darren Wilson in the shooting death of Mike Brown, the non-indictment of Officer Pantaleo in the death of Eric Garner and the many blatant killings of Black men and women at the hands of the police happening across the country, I posted a question on Instagram asking the natural hair community a simple question: "What can WE do?" I asked them what are we going to do to ensure our freedom for this and the next generation. I asked for real solutions that can affect REAL change. I received a ton of responses with all kinds of ideas to that simple question. It was as if people were waiting for this discussion to happen within the community. I know the natural hair community has the capacity to make a real impact because we already have. Look at what the natural hair community has accomplished online already. We're changing the conversation around Black beauty, wellness and lifestyle! I wanted to know how we can harness that power into changing the very system that continues to marginalize Black people.
The Afros & Activism panel focused on a few key areas for Black naturals:
1. An exploration of the similarities & difference in the natural hair movement of the 60's & 70's & today;
2. The Afro as a symbol of Black Pride & resistance;
3. The politics of natural hair; and
4. Activism: The natural hair movement as a platform for activism.
Panelists included: Imani Dawson founder of Tribe Called Curl, Arielle Newton founder of Black Millennials; Tahj Sutton, founder of LocLoveLivesHere and Phyllis Bynum, former educator and decades long member of the Black natural hair community. These were dynamic women and I encourage you to visit their social media pages and get connected.
The video for the panel is included below and I'd love to hear your thoughts. How can Black naturals use our collective power? What role should we play in the current issues plaguing the broader Black community? What goals should we be working towards collectively?
********
Looking for more thoughts from an Afro State of Mind? Check out my book Afro State of Mind: Memories of a Nappy Headed Black Girl now available on Amazon.com in paper back or available here for e-book download! And if you want to stay connected follow me on Twitter, or Instagram "like" Afro State of Mind on Facebook or catch up on my latest Youtube videos!