The Win
Like many of you I was thrilled when I saw Tamron Hall, the first Black woman to co-anchor the Today Show, make her natural hair debut on the air. #BlackTwitter collectively lost its mind as we ooh'd and ahh'd over Hall's natural hairstyle.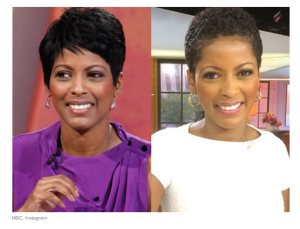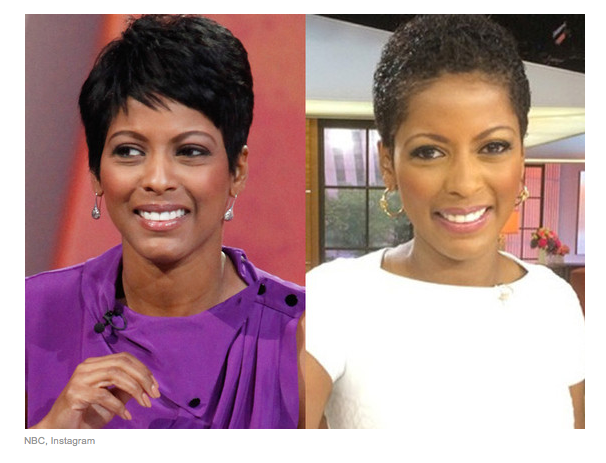 Even White folks got on board and supported her curly girl look. The Today show took the nerve-wrenching step of polling viewers to see if Hall should keep her natural hairstyle. Surprisingly, 78% of the viewers responded in the affirmative and said her natural look was a keeper.
(But just between you and me? Considering the troublesome relationship Black hair has with America, I initially cursed my television, made sacrifices to the Natural Hair Gods and wondered whose bright idea it was to put such a potentially polarizing question up to a popular White opinion poll. Suffice it to say, I was pleased—and pleasantly surprised—with the results. Natural Hair Gods stay coming thru for Sistas…)
The entire affair was encouraging. Partly because Hall is only one of a few Black women in the media who have successfully embraced wearing ethnically Black hair (aka natural hair styles) on camera. But it was even more significant for its broader meaning for the choices available to Black women in the professional workspace.
Because despite Tamron Hall's natural hair win, we are still at "drop-in-the-bucket" stages of ethnically Black hair freedom.
In the rush to squeal for joy at Hall's victory, it's easy to miss the magnitude of the moment. My law school professor Derrick Bell (aka one of the most brilliant, awesome people ever, may he rest in peace) used to say that we often get excited over small symbolic victories and can easily forget the broader structural barriers to Black freedom.
This is especially true when applied to the freedom of Black women to wear the hair that our genetic pattern grows.
The Draw
It was just earlier this year that another brilliant Black woman news personality referenced her inability to fully embrace wearing ethnically Black hair on camera. While on a short leave after the birth of her daughter, Melissa Harris-Perry, host of the Melissa Harris Perry Show on MSNBC, tweeted an adorable selfie posing with her scrumptious new baby girl. Along with the picture Harris-Perry included the following message:
"One of my fave parts of maternity leave? No TV means no extensions. Getting to chill with my natural."
Keep in mind that it's not as if before her maternity leave Harris-Perry was rocking a waist length weave or wig. She traditionally wears her hair in braided extensions—a style that many already consider fairly "ethnic." So it's not like she was big chopping a "beneath the bra strap" length perm.
For many of us, Harris-Perry is Black Nerd Royalty. Each weekend she leads dynamic discussions on race, gender, class and politics and she masterfully weaves the audience through the intersections of these and many other categories. She "talks race" and provides a table where (gasp!) nuance and facts are parsed over and dissected in ways that make my little Black nerdy heart soar.
So if she has to wait until she's on maternity leave before she can appear in front of a camera wearing ethnically Black (aka natural) hair…then how much hope does that leave for those of us who spend our working hours in spaces where nuance is a bad word and discussions about race, gender and class could get you fired?
The Loss
As I said in my book Afro State of Mind: Memories of a Nappy Headed Black Girl,
Though I've been blessed to have a relatively easy time of things as a nappy-headed professional [partly due to my insistence that my hair is not a negotiation point], there are some Black women who have been sacrificed on the altar of racial discrimination because of their decision to be Black while simultaneously wearing ethnically Black hair at work.
Remember meteorologist Rhonda Lee? Lee is the Black woman who was an on-air personality for an ABC affiliate in Shreveport, Louisiana. She was summarily fired after answering a viewer's questions about her natural hairstyle on her company's Facebook page.
Though Ms. Lee is fighting her dismissal, it seems clear that when it comes to punishing or rewarding Black women for our hair choices, that there are no clear cut rules.
More recently, according to Clutch.com,
Tiffany Bryan recently filed a $900,000 lawsuit in a Brooklyn federal court after claiming the company fired her for refusing to "tame" her large afro. Bryan, a 27-year-old bone-marrow cancer survivor, decided to go natural in 2008 when her hair began growing back following chemotherapy treatments and refused to change her signature style, even when her job was on the line. The Queens native worked as a security guard at Brooklyn's Barclays Center arena and claimed she was harassed about her hair until managers finally decided to let her go.
So. Recovering cancer survivor decides to stop wearing chemically straightened hair, because you know…health…and she's let go.
May Black 4c Hair Jesus take the wheel.
As more Black women decide to embrace wearing ethnically Black hair and incorporate more natural hairstyles into our repertoire, we need to be clear that we are standing on shaky ground.
Though discrimination against Black people is illegal, discriminating against Black hair is evidently still up for discussion. Whether it is in corporate America, the armed services, or even at Black institutions like Hampton University.
We do not yet possess the legally protected right to wear our hair the way that it grows. And a whole host of folks are cool with that.  This makes as much sense as saying that it would be ok if our Asian brothers and sisters did not possess the legally protected right to wear slanted eyes.
See how that works?
The Game
Here's the point: We're being played, y'all.
And part of the reason we're being played is because we have yet to amass our power. We have yet to grasp that as Black women operating as a collective, We. Make. Ish. Happen.
When the Black natural hair community (I say "Black natural hair" because evidently our White girlfriends can be natural now too?) heard about little Black girls being kicked out of school for wearing ethnically Black hair, we responded. And our response forced those schools to issue apologies and recant their racist policies.
When military branches decided to discriminate against Black women for laying their lives on the line while having the nerve to wear ethnically Black hair, our collective What-The-Hell? response forced the secretary of defense to order an investigation into the matter.
When that Glamour magazine editor came out the side of her neck using pictures of Black people wearing ethnically Black hair at work to describe hairstyles that were corporate "don'ts" the negative reaction was strong enough to force the mag to apologize. In multiple forums and in very, very surface level ways.
So yes. We have power. The question is, are we using that power to make long lasting, real life, on the ground, practical change?
Or to just respond to the current crisis at hand?
The Rules
As I've noted before:
No matter how you choose to wear your hair, wearing Black hair in Black styles is not a revolutionary act. Wearing Black hair the way it grows out of my Black head is part of my civil and human right as a Black woman.
It is economically violent to force Black women to succumb to racist policies that force us to pick between making our hair do something it was never designed to do and keeping a job.
It is a violation of our civil rights to force Black women to either straighten our hair and look like White women or feed our families.
It is causes racial trauma to force Black girls to choose between looking like their bodies were programmed to look and getting an education.
If nothing else, remember this:
The more of us who choose to wear natural hair, the more we are going to have to contend with the fact that natural hair is not appreciated, valued or respected everywhere. We have to stop talking about natural hair in terms of an "option" and reframe the language. It is our God given right to wear our hair in styles that are normal for our hair as we define it…

It is not up to White people to decide what is normal for Black hair. It is not up to Black people who desire to emulate White people and their standards to decide what is normal for Black hair. We are the ones who must create, implement, define and defend our right to wear our hair the way that is most appropriate for the way our hair grows…

Repeat after me: Wearing Black hair in Black styles is our civil & human right. Say it over and over until you believe it and are willing to defend the truth of it. Because this is not the first time that a group in power has tried to squelch our ability to wear natural hair. And it won't be the last.
We have power. Not just a little power. Big power. Big, nappy, kinky, coily, Hair Type 10N kind of power.
The question is will we keep that power constrained to polite conversations about two strand twists and apple cider vinegar recipes? Will we simply get our click counts up by swooning every time a Black woman dares to wear ethnically Black hair on camera? Or will we be proactive in asserting and protecting our rights to be Black women, in Black bodies, wearing ethnically Black hair, in every space that we occupy?
Win. Lose. Or Draw.
Those are the choices. The next move is ours.
Let me hear from you. What do you think? Are naturalistas ready to capitalize on our power? Have you been discriminated against for wearing ethnically Black hair (aka natural hair) styles? What steps can we take to be more proactive in protecting our right to wear ethnically Black hair?
********
Looking for more thoughts from an Afro State of Mind? Check out my book Afro State of Mind: Memories of a Nappy Headed Black Girl now available on Amazon.com in paper back or e-book! And if you want to stay connected follow me on Twitter, "like" Afro State of Mind on Facebook or catch up on my latest youtube videos!