After posting this picture of herself wearing an Afro on twitter, female rapper and America's Best Dance Crew judge Lil' Mama got a reminder of just how challenging it can be to be natural.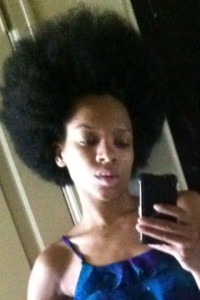 According to a report posted on LoveBrownSugar and CurlyNikki, Lil' Mama's Afro picture was not very well received. Some of the folks on her twitter stream saw the photo and promptly posted comments like "OMG you look like a shocked slave!"
Ouch. As if wearing an Afro weren't challenging enough already.
According to the article, Lil Mama stated:
"I didn't get one comment from a white person about my hair. All of them came from the sisters that had these bullsh** helmut weaves looking like a fake a** Nicki Minaj. They don't know who they are. And the people they're looking to for guidance don't know who they are either, which sucks."
If you read her comment too quickly (or too literally) you might have missed some of the gems that Lil Mama shared.  (And no, I'm not talking about the reference to Ms. Minaj – plenty of folks have enough comments about that little mention, so no need to dive into that here.) Personally, I almost fell out laughing at the imagery of a "helmut [sic] weave" – and I had to re-read her comments a few times to digest what she was saying. But she dropped some gems nonetheless and they should be explored.
I was most struck by the fact that Lil' Mama pointed out the racial difference between people who commented (negatively) on her hair (the Sisters) – and those that did not comment at all (White folks).
Haters Need Love Too
Ahh the nappy-hair haters.
I'm sure you've run into them because they show up in all shapes, sizes and locations. And sadly, the haters are usually other sistas who feel the need to share how unacceptable you and your nappiness are.  One of the things I write about in my book is the fact that while I was in corporate America, I never had a White employer take issue with my hair. On the frequent occasions when someone had something derogatory to say about my nappiness – it was nearly always coming from a sista.
Usually a well-meaning, but completely wrong sista.
Despite the large numbers of Black women at my law school who wore natural hair, our numbers were far fewer in the working world.  Most older professional Black women wore their hair straight – either with a perm or some combination of perms, weaves or wigs. Several of them just looked at my hair and sighed.  It was almost as if they thought I missed the "Black professional women wear their hair straight" memo.

I'm not sure if the concern was for me and what nappy hair could do to my own career or if the concern was what impact my nappy-head was going to have in the workplace. Now some of you may know that generally speaking, Black folks don't like airing our "dirty" laundry in front of mixed company.  And for many of these women, nappy hair was most certainly "dirty laundry."
When I spoke with some of my sista-friends about their experience with nappy-hair haters, they said the same thing. Nearly every one of them had a nappy-hair nemesis and that nemesis was nearly always a woman in Black skin.
Not All Hate is Equal
Some nappy-hair haters are kind – they hide their personal discomfort with nappiness in gently voiced concern for what your nappiness may do to you. They are typically "concerned" about how being nappy may negatively impact your career, health, money, hopes, dreams or prospects for finding a man/woman/child or anyone else who will love you and think you are beautiful.
These are often the concerned family members and friends who just can't quite understand what you think you are doing with that pile of soft, fluffy hair on your head. They may have supported the idea when you first mentioned it. They may have even thought your teeny-weeny Afro was cute – when you were in college. But now that you are "grown" or in the "real world" they just can't seem to accept that you are nappy, for real.
Some of the haters are just down right mean (aka "ignant." No, not ignorant – ignant as in a bit stank and nasty) about it. It's almost as if the sight of your hair offends them personally. As Lil' Mama discovered, these are the types of folks who tweet disrespectful comments like "your afro looks like a shocked slave."
But most nappy-hair haters are somewhere in between. Regardless of how your haters may feel personally about you and your napps, the reality is their hate probably has a lot more to do with them than it does with you. Remember, just because you read some books, found yourself and are now able to love who you are and how you look, the majority of our people have not been down that path.
In fact, quite the opposite.
Most of us have been really well trained in the art of seeing Blackness – and Black hair – as less valuable, less attractive and substandard. I know, it's hard to hear and even harder to accept. But don't take my word for it, there are libraries full of books by experts who speak about this issue (Dr. Joy DeGruy, Dr. Jawanzaa Kunjufu, Dr. Naim Akbar, speak powerfully about this topic, just to name a few.)
Author bell hooks wrote about this issue in her book Salvation: Black People & Love.
No one speaks about the topic of Black people and love without addressing issues of low self-esteem and self-hatred . . .the trauma of White supremacy and ongoing racist assault leaves deep psychic wounds . . .every day all black people encounter (as does everyone else) some expression of hatred toward blackness, whether we recognize it or not . . .Tragically, most black folks first experience racist wounding in our own homes when our worth is judged at birth by the color of our skin or by the texture of our hair."
When you consider that indoctrination and history – the nappy-hair negativity that so many natural heads experience at the hands of other sistas makes a lot of sense.
When a large portion of a community continues to yearn for something it believes it can never have, you know, something like 'good' hair, it can be mind-boggling to know that some people in the same community no longer want it. If your whole hair life can be summed up in one negative emotion, it can require mental acrobats to realize that some Black women actually prefer nappiness.
If you grow up with elders you respect who tell you to "do something" with those naps if you plan on getting a job (or a car, house, or anything else remotely associated with a sign of success), it can make you cringe inside when you realize that those elders might have been wrong. When your friends tell you to straighten your hair if you ever hope to get a man, it can be startling to encounter the many Black men who prefer women with natural, touchable hair.  When your success is largely based on "looking the part," and that "part" includes having long, flowing, White girl hair, it can be hard to swallow the knot in your throat when you see nappy-headed women achieving great success – without that look.
How do I know this? Because I have experienced each one of these emotions. I am a recovering nappy hair hater. There. I said it. There was a time when the last thing I wanted was nappy hair. Thankfully that time has passed and is now a distant memory.
When I speak with my sisters-in-nappiness, they acknowledge that there was a period in their own lives when they could not see the beauty in nappiness either. I'd be willing to bet that most of us who are natural today can remember a time when we would have done anything to convince the world that our hair was as naturally straight as the perms, weaves & extensions we were hiding behind.
Had I not taken my own trip down the path of self-discovery, I could have been trapped in nappy-head-haterville too.
Give Love a Chance
If it sounds like I am asking for us to show the nappy-hair haters some extra love and compassion – it's because I am. Frankly, the Black community has been through a mind job the likes of which have yet to be fully explored.
Just because I "found myself" and fell in love with my nappiness – doesn't mean others did too. Just because I read some books and have a different vantage point doesn't mean that people who still think the way that I used to think are bad people. It just means they have not yet changed their vantage point.
But they might.
If given enough time, information and love, they just might. After all – you and I did, right?
Which brings me to the next point, stated so eloquently by Lil Mama: when it comes to haters, you have to remember it is likely that they just
"don't know who they are. And the people they're looking to for guidance don't know who they are either, which sucks."
Truer words have yet to be spoken. They may be haters – but it's not necessarily their fault.
The question is – are those of us who have been on that side of the fence going to remember what it was like to not see beauty when we looked in the mirror? Can we remember how much it hurt when we got teased for not getting our roots touched-up soon enough? Can we remember what it was like when we wanted straight hair so bad that we would tie slips or t-shirts to our hair to imagine our hair was long?
I pray that the natural hair movement has enough of us "former haters" to be a bridge between these two sides of our community.  The last thing we need are "natural hair wars." I am ever grateful for the natural heads who were patient with me and helped me learn how to love myself and my hair.  I appreciate women like Lil Mama who not only recognize the hate – but understand the roots of it too.
Like my mother says – if you knew better, you would do better. Let's hope that's true when it comes to the nappy-head haters.