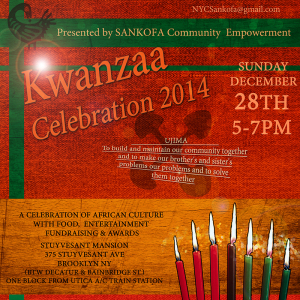 There really is something beautiful about participating in a community wide celebration of something. Holidays are just that – collective agreements that something special is happening or needs to be commemorated.
No one's holiday fell from heaven and landed in our laps. Some are inspired by spiritual or religious movements. Others may have more secular beginnings regardless of how they are celebrated today. Some of us celebrate the holidays with a religious zeal even if we don't have a religious bone in our body.
Yesterday was the last day of Kwanzaa 2014 and the first day of the New Year. As is true with many of you this is a special time for me. My winter holiday season begins with honoring the Solstice, celebrating Christmas and engaging in family and community development with Kwanzaa.
It's a holiday tradition that ends up being 11 days of contemplation, reflection and meditative thoughts about the future.
Kwanzaa was especially blessed for me this year for two reasons. First, there seemed to be less "Kwanzaa hatred" this year and second because of a project I'm working on with my non profit organization, Sankofa Community Empowerment, Inc. More about each below.
What Is Kwanzaa Anyway?
Kwanzaa is a holiday that sets aside a period of "sustained reflection on the moral and expansive meaning of being African in the world, especially on how we understand and live our lives and engage the critical issues confronting our community, society and the world."
It is based on the seven Nguzo Saba principles. They are social principles that provide us with ways to relate to each other and rebuild our lives in our own images. The principles are:
Umoja – Unity
Kujichagulia – Self-Determination
Ujima – Collective Work & Responsibility
Ujamaa – Cooperative Economics
Nia – Purpose
Kuumba – Creativity
Imani – Faith
Like all holidays, Kwanzaa is a time set aside to focus on values that are important to our community. It is time to recharge ourselves so that we are better able to deal with the realities and challenges that we face in a way that is empowering & uplifting.
According to one of the founder's of Kwanzaa, Maulana Karenga,
"Kwanzaa came into being, courageously questioning the established order of things and pursuing ways to affirm, celebrate and sustain ourselves, our history, culture, identity, dignity and right to freedom as a people. It came into being in the midst of the Black Freedom Movement as an act of self- determination and as a self-conscious contribution to a conversation about reconceiving the world from an African-centered perspective and to the struggle to radically transform society."
So Kwanzaa is a time for us to reflect on the state of our community, our role in improving the conditions of our community and it provides an opportunity for us to cement some of the values that we need in order to collectively heal.
And if 2014 has taught us anything – it's that we need this time to gather and heal so we can progress as a people.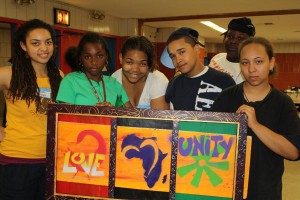 Kwanzaa Haters: Not This Year
If you celebrate Kwanzaa or know someone who does then you are probably also familiar with the Kwanzaa Haters.  Kwanzaa Haters are folks who may or may not have ever celebrated the holiday but who find no end to the reasons why they should critique it.
These folks claim "Kwanzaa is a man-made holiday so it can't be real." (And yes they forget all holidays are man-made.)
Some Kwanzaa Haters say the holiday is racist because it was created by and for Black people. (These same people have no issues with their colleagues and friends celebrating Hanukkah – a Jewish holiday made by and for Jewish people or Christmas – a Christian holiday made by and for Christian people that is now widely embraced by both secular and religious alike.)
Some folks like the Washington Post's Jonathan Capehart find Kwanzaa an easy target on a slow news day and say that Kwanzaa is merely:
another sincere yet misguided effort by African Americans to forge a connection to an ancestral home they know nothing about. Sure, the principles of "unity," "self-determination" and "collective work and responsibility" are excellent. But did we really need Kwanzaa to imbue us with these values? Do we really need to light a candle each day and recite a word in a language we've never spoken or know anything about to reaffirm a sense of community and resilience?
To Mr. Capehart and other Kwanzaa Haters, I say yes. Hell yes in fact.
A community that is frankly as messed up, dis-empowered, dis-unified, unable to determine its own destiny, and stymied at every chance we take to engage in collective work and responsibility as the pan-African Black community is – yes, we  most certainly need an annual time to focus on the principles of Kwanzaa.
And yes, infusing the holiday with a sense of ritual is important. Especially rituals that invoke a sense of pride and connection to Africa and our origins. Because part of the success of slavery was based on separating us from the power of African cultures that affirmed us as a people. Slavery – and its descendant "institutional racism" – depend on Black people having no culture from which to derive a sense of self.
Because people with a sense of self make piss poor slaves. And they make even worse employees.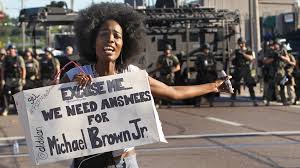 Setting aside a specific time of year when we can all focus on some of the most positive principles out there is necessary for us. Setting aside a time when we can lay down our divisions and focus on unifying is important for us.
You know who could use some Kwanzaa? A people so dis-unified that we can't supply our own needs. (Umoja)
You know who could use some Kwanzaa? A people so unable to determine our own destiny that our kids are taught in schools complete ill-suited to their specific needs. (Kujichagulia)
You know who needs some of us to Kwanzaa more? The protesters who every day since Mike Brown's death determined to make our brothers and sisters problems our problems and to solve them together. (Ujima)
Guess who needs some Kwanzaa? A people who don't run their own banks, who can provide their own collective means of transportation. You know who needs some Kwanzaa? A community that spends 90% of its money with businesses that hate us and would rather not serve us but for the fact that they get our money (I see you Revlon CEO). A community that hasn't been able to meet its own collective needs since the days of segregation…when we were forced to… (Ujamaa)
You know who needs some Kwanzaa? A people whose best and brightest can only conceive of working for White people and who have no vision or purpose dedicated towards creating our own jobs. (Nia)
You know what kind of people need Kwanzaa? A people whose primary creative outlets comes in the form of music that tears down the collective, destroys our image of women and finds joy in celebrating things like being a nigga and thug life. (Kuumba)
You know who needs Kwanzaa? A people who have more Jesus and religion than anybody but who can't seem to use that faith to get us out of the Maafa (or African holocaust) that we are in. (Imani)
In comparison to previous years however, it seems as though the Kwanzaa Haters were quieter this year (Mr. Capehart's glaring Kwanzaa Temper Tantrum  notwithstanding). Perhaps they got the memo that in a year as challenging as 2014 was for Black people, hating on a holiday designed to empower us was the wrong way to go.
That memo – the one that saw the Black community rise up and engage in the early forms of protest we haven't seen in generations is also part of the second reason my holiday season was awesome.
The 28 Day Nguzo Saba Project
Starting on January 26, 2014, a non-profit I co-founded,  Sankofa Community Empowerment ("SCE") revived the Nguzo Saba 28 Day Devotion Project.
For each day of Kwanzaa 2014 SCE sent out one daily devotional that incorporated the Kwanzaa Nguzo Saba principle for that day. These devotionals were based on quotes from our ancestors, elders and African proverbs and will tie in the meaning of that day's principle.
After Kwanzaa officially ended on January 1, 2015, SCE continued the Nguzo Saba Devotion project for an additional 21 days. Why? Well there are several reasons.
1. In light of the traumas we are currently facing as a community, 7 days is not enough time for us to address what we are dealing with.

2. It is generally believed that it takes 21 days to create/change a habit. We want our community to create new patterns of thinking that allow us to become a self sufficient community that can meet its own needs (like all healthy communities can do).

3. We believe Kwanzaa should be a verb. For a people who are still entrapped by the legacy of slavery and continuing institutional racism, it is imperative that we take every opportunity to be intentional about our healing on an on-going basis.
The 28 Day Nguzo Saba Devotion Project will provide the opportunity to reflect on powerful messages while learning how to apply the Kwanzaa principles to our daily lives.
As an example, on Mondays-when we celebrate the principle of Ujamaa (Cooperative Economics)-consider making an effort to only support Black owned businesses and institutions with your dollars. On Fridays-when we celebrate Umoja (Unity)-consider what you can do to create a stronger sense of unity within our community, i.e. be intentional about greeting each other with a smile or mending old wounds with past friends and family.
These and other efforts will increase our ability to make the principles of Kwanzaa and community uplift more relevant throughout the year.
I'm going to be posting one of these devotionals for the next 28 days. I strongly encourage you all to read & share/forward the devotions and meditate on the messages and wisdom provided.
Be well – and Happy Kwanzaa!
Day 1: 
Principle: Umoja (Unity):
"To strive for and maintain unity in our family, community, nation and race."
Proverb:
"Sticks in a bundle are unbreakable. " ~Kenyan Proverb
Devotion Message:
During the Trans Atlantic Slave Trade, Africans were strategically pitted against one another. Slave owners knew that enslaved Africans who were unified would be far too powerful to exploit. Countless slave narratives and legends like the Willie Lynch letter explain the level of thought and planning that went into keeping Africans from realizing their collective power. These "man made" divisions still exist and continue to keep us from working toward our collective empowerment.
We can easily see numerous ways that our society keeps us divided today via music, class structures, skin color, materialism, mis-education and a variety of other mechanisms. For this reason, it is imperative that we remember this unifying proverb as we experience this phenomenon. One stick on its own is easily snapped in two. But sticks in a bundle are not easily broken.
We must remember that most of the divisions within the Pan-African community were planned and scripted for us. We must begin meditating on the principle of Umoja/Unity so that we will gain strength from each other and become the "sticks in a bundle" which are unbreakable.
********
Looking for more thoughts from an Afro State of Mind? Check out my book Afro State of Mind: Memories of a Nappy Headed Black Girl now available on Amazon.com in paper back or available here for e-book download! And if you want to stay connected follow me on Twitter, "like" Afro State of Mind on Facebook or catch up on my latest youtube videos!