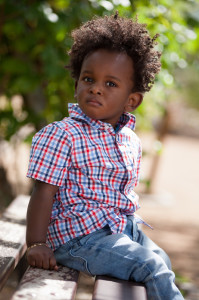 Early Hair Pride
Now that I'm raising a child I find it even more important that I surround mini-me with affirming images of natural hair. At first I didn't think this would be that big of a deal because my child is a boy and when we usually think about natural hair we do so in terms of girl children. But as I previously mentioned here, learning to appreciate natural hair is not just for mommies and daughters.
My husband wears his hair in locks and many of his male friends wear an assortment of locks, braids, or closely cropped fades. So our son is surrounded by males and females who wear their hair in all manner of ways—natural styles and otherwise.
One of the reasons I love living in Brooklyn is that Brooklyn hair diversity is a beautiful thing.
Because of that, it seemed natural that when he was getting ready to turn five, he informed us that he wanted to lock his hair "just like daddy." I was ecstatic because if I'd had my way he would have been locked from birth but my husband wanted him to make his own decision.
My son was super proud of his hair in the beginning. He felt like a "big boy" and announced to anyone who would listen that he was growing locks. Then he would rattle off the names other males and "big boys" in his life that already had locks just to emphasize his point.
We got a real kick out of that.
Hair Doubts & Negative Influences
But then something strange began to happen. As those of you with locks well know, there is a stage where you locks sort of stand up on your head. They are not long enough to lie down but are too short to stay close to your head. I call it the "adolescent" stage where the locks are sort of rebelliously doing their own thing.
While my son was in this phase, one day he took one look in the mirror and yelled out "MOMMY I DON'T LIKE MY HAIR! I HATE MY HAIR!"
My heart sank. I think I would have been more prepared for this conversation if he were a girl because I could understand it from a female point of view. But to hear my loud, rambunctious, proud, affectionate and loving son, who may have spent a total of 10 minutes in his whole life staring in the mirror, declare that he hated his hair both shocked and hurt me in a way that caught me off guard.
I asked him to tell me why—and he gave me an earful.
"It doesn't lay down like daddy's, it's not long like daddy's and it stands straight up on my head!"
It didn't really help as much when we told him that this was just a phase and that daddy's hair went through the same thing. As far as he was concerned, daddy's hair wasn't doing it now and that's what mattered. Like all naturals, he was going through the "I want my hair to look like XYZ and I want it to look like that now!" phase.
Then he told me something that made my mama bear's blood boil. He attended a summer camp—an all Black summer camp, in Bed Stuy, Brooklyn—and was apparently having a rough time.
Why? Because some of the bigger kids teased him about his hair and said he looked like a girl and that his hair was ugly.
I was livid. Not only because my son was hurt by the teasing but because it made him doubt his decision to grow his hair out. It made him question whether or not he should keep his hair "like daddy's" – a choice that had previously filled him with pride.
Once I calmed down my husband and I began having a series of conversations with him about hair in general and his hair choice in particular. We explained to him that his hair was handsome and strong and that we loved how powerfully it was growing.
When he asked me why the big kids teased him, my husband and I had a frank, simple and honest conversation with him about the history of hair in our community. We explained to him that for a long time, Black people were not able to wear their hair in natural styles with pride and that it was only recently that many Black people began to believe that our hair could be beautiful.
Now, thanks to his awesome (African centered and academically rigorous) pre-school education (shout out to Little Sun People Daycare!) and the fact that my husband and I are always honest with him on issues of race, he already knew more about slavery, racism and the need for Black people to work together and love each other than many adults.
So these conversations were able to build on that foundation. It took some time but he was finally able to realize that there was nothing wrong with his hair. He even went so far to say that it seems like the big kids who teased his hair probably weren't comfortable with their own hair—and he felt sorry for them (gotta love it when your kids actually "get it"!).
Once he started demonstrating more confidence about his hair again, we gave him the option of cutting his locks off. We struggled with this but we wanted him to know that his hair is merely an extension of him and that it doesn't define him. He thought about it for .2 seconds before declaring "No way! That's a bad idea guys!"
How to Navigate this Conversation
So here are some tips when your child starts the "I hate my hair" phase.
Hear them out. Their reasons for not liking their hair may both rational and logical from their perspective.
Show them support. Our kids need to feel like they can come to us and share how they feel without being judged. It's important that Black kids are reaffirmed and your support for them and their emotions will go a long way.
Tell them the truth. As I've mentioned previously, whether or not you choose to talk with your kids about race, the issues that underline racism, skin color preference and hair texture, are all helping to form a part of their identity.
Be proactive about building up their esteem. As I've discussed here, kids as young as 3 and 4 who grow up in Western society are able to demonstrate their awareness of the privileges afforded to lighter skin and straighter hair. If you child has questions about these issues or doubts their own choice to wear natural hair, I believe that part of our job as Black parents is to help arm them with the knowledge they need to understand, navigate and overcome these issues.
At some point I will post a list of resources that my husband and I use to help us have age appropriate conversations with our son and the kids in our youth programs about these issues.
One thing that helps us a TON is the fact that we live in a predominantly Black neighborhood full of friends who are actively trying to send the same positive messages to their Black children. If this is not possible where you live, then seek out groups and organizations that allow your child to be surrounded (to the extent possible) by images and local role models that look like you look, speak like you speak and who demonstrate an appreciate for the beauty of Blackness.
No matter how you choose to navigate the "I hate my hair" issues—just know that more than anything, your child needs to know that you love them and that in your eyes, they are beautiful and have all of the potential in the world.
If you have any tips for navigating this issue, please share them in the comments as we can all learn from each other!