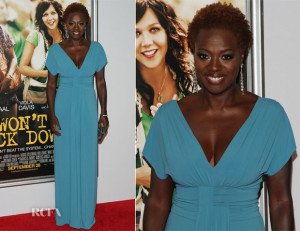 During the 2012 Oscar season, actress Viola Davis was the talk of the town. She had been nominated for an Oscar after a powerful performance in the film, The Help.
In the weeks leading up to the Oscars, people seemed to discuss her hairstyle nearly as much as they discussed her historic Oscar nod. Previously, she'd worn a combination of wigs and weaves but evidently, like many Black female actresses and professionals, Viola did not actually have a perm in her hair.
Her hair was natural in private but in public – Ms. Davis donned the Black Woman's Straight Hair Uniform.
One might have thought she was perfectly content with a straight hair look. But it appears this was not the case. According to Essence Magazine, Her husband gave her a both lot of encouragement and a fantastic piece of advice: "If you want to wear wigs for your career," he said, "that's fine, but in your life wear your hair. Step into who you are."
How's that for spousal support?!
So during the media blitz for, The Help, she decided to start publically wearing her hair in natural styles. In February 2012 she was featured on the cover of the Los Angeles Times Magazine in images like these.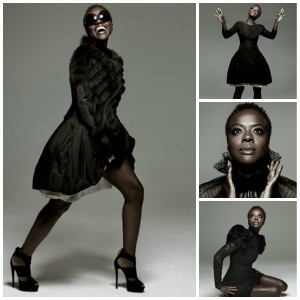 She was simply stunning, even more so because she was completely wig, weave and perm free.
They were some of the most beautiful images of a Black actress that I have ever seen. But not just because Ms. Davis' hair didn't wear her hair straight. They were even more stunning because Ms. Davis was rocking a two-inch Afro on the magazine cover. As you can see that sista looked awesome.
By now, most of us should hopefully be able to appreciate what her image on that magazine cover meant to a lot of Black women. But the conversation that swirled around Viola went beyond dissecting her hairstyle on that cover. The rumor mill was much more intently focused on whether or not she would take her own personal natural hair revolution a step further and actually wear her Afro to the Oscars.
As you can imagine, this was a big question. One natural haired blogger reminded us that "a lot of people used to say natural hair wasn't formal." The blogger rightly noted that a lot of Black women hadn't "really felt comfortable for a while wearing their natural Afros to special events and activities."
Afros in High Places
I think there is more resistance to the Afro than to other styles for a number of reasons. One of which is that styles like long flowing two strand twists, locks or similar hairstyles that emphasize length, or long strands, tend to give you that long flowing hair look. Though these are natural styles, they look closer to the "long-hair-is-straight-hair-which-equals-good-or-pretty-hair" end of the European beauty model than an Afro is.
But the Afro…the Afro hairstyle is not even close. Worn either patted down for shapeliness or fluffed up for fullness, the Afro is by design, everything that long, straight hair is not: tight curls, bunched up close to one's head. The Afro is about as different from the traditional European "straight hair is beautiful hair" model as day is from night.
So, when the illustrious Viola Davis began showing her natural roots in public, this was the backdrop against which the rumor mill began to swirl. An Afro at the Oscars?! No way. There was just no way she would expose all of that nappiness at the Oscars…or would she?
Well it was a nice hope. But no matter how much we wondered if she could really do it, no one actually expected her to go wig or weave-less for the Oscars. For people who care, the Oscars are the end all and be all of Hollywood events. In some ways, my sisters-in-nappiness and I understood the realities of the industry Viola Davis is a part of. As noted by online magazine MadameNoire.com, we collectively understood that, "as a black woman in a pretty nitpicky and White-washed industry, [Viola Davis] probably wasn't fully comfortable with her hair yet, and clearly not ready to show it off."
And we did not judge her for that. We simply understood and appreciated the fact that she had already represented naturals in such a positive way.
So knowing how hard it is to wear an Afro anyway, and knowing that our culture has a ranking system for which natural styles are formal or 'sophisticated' enough to wear at an event like that (more on that in a later post), most of us never really expected that Viola Davis would do what she actually did.
But then suddenly, there she was, on Hollywood's biggest night out. She stood there on the red carpet looking absolutely stunning in a gorgeous emerald green Vera Wang gown sporting nothing less than that (wait for it . . .wait for it . . .) nappy, drop dead gorgeous, auburn-colored Afro!
They were the naps seen around the world.
Not only did she defy our expectations, she also looked fantastic while doing it.  The nappy hair blogosphere was instantly set afire.  Viola represented us so very well and she did it in a way that declared to the world, "I am beautiful just the way I am. I am refined sophistication and elegance in the way that only a nappy head can be. I am sensually, beautifully, brilliantly, nappy. Period."
God, I love that woman.
Well Ms. Davis isn't done yet. She recently appeared on Anderson Live to promote her latest film Won't Back Down. As the cast discussed the film, the host Anderson Cooper switched topics and asked Viola why she changed her hair look at the Oscars. He invoked the hair drama about Gabby Douglass at the Olympics asked her if she found it odd or surprising that there was so much discussion about hair. Her response was classic!
"No, because I'm an African American woman and there is not enough time on this show to explain the hair issue. But that being said I took off my hair – I took off my wig b/c I wanted to step into who I was. And listen I love wigs…and still will wear a wig every once in a while. But for me…it felt like every time I put on a wig I was apologizing for who I was. Being a dark skinned woman with very curly hair, I felt like I was hiding it. And I felt like I was saying ok my characters aren't very glamorous but look at me! You know? See me – aren't I pretty? And I felt like I didn't want to do that any more and I felt like the Oscars were the perfect time to do that and so I stepped into who I was."
OMG – If I could swoon on command I would do so now. Such a simple, clear and concise response that conveyed so very much. Let's just say Ms. Davis is a fabulous representative for the natural hair movement. You can watch the video clip below.
So what do you think? How does the Afro hold up at formal events? Is it 'sophisticated' enough? Is the Afro hairstyle 'formal' enough to be worn with a gown and pearls? There seems to be a lot more acceptance for long two strand twisties than for short nappy Afros – why is that? Sound off in the comments and let me know what you think. And as for Ms. Davis – I'm going to keep following her because she is becoming a fantastic natural hair missionary and is doing a great job of promoting the message that nappy-headed Black girls are indeed beautiful – just the way we are.